Yoga
Calling all Yogis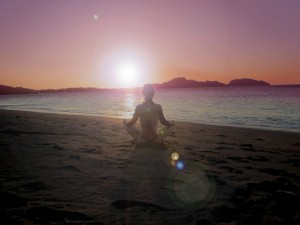 Our Villa is available for your Yoga retreat. Our home can be rented to accommodate a group of 10 people. If your group is larger, we can help you find more accommodations.  If you are an instructor whom always wanted to host and bring a group to the Mayan Riviera, you have found the place.   Yoga can be done around the pool with complementary services such as concierge, transportation, cook, massage, manicures-pedicures and tour guide.  Design your packages as you wish.
There is a Yoga studio at the entrance of our neighborhood in the Excel Sense Boutique Hotel where complementary sessions could be held. We invite you to hold your next workshop, program, retreat or other event in Playacar, Quintana Roo, Mexico. Discover an untapped realm of magical Maya Riviera coast and soak in the power of the Caribbean Sea. Explore the mysteries that will entice, awaken, and inspire you… whether through surf, yoga, tai chi or any activity that awakens your sense of wonder and awe. Create the Mayan retreat experience you've always dreamed of.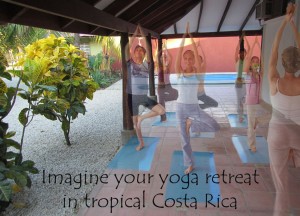 Create your own package and set up the program that suits your needs.
The Mayan Riviera and yoga is a match, maybe it's the country's ancient rhythm and slower pace, perhaps it is the tropical heat, or simply because of the air with it's amazing oxygen produced by thick and dense tropical forests.  Many believe the location fosters a renewed sense of equilibrium.  Whatever the reason, breathing is amazing, and helps free the mind and the body.
Abundant!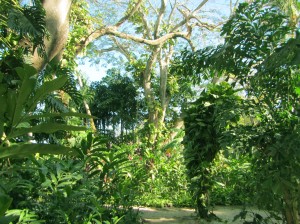 A tropical yoga retreat offers the constant sounds of the ocean, birds, insects, animals and wind in the trees; an ever-present reminder of the life and movement which surround us.
Nothing stops here. Growth is year round and abundant: the etheric forces are incredibly strong.  The deep greens of the jungle, the red and orange blaze of the native flowers and the bright blue of the sky and sea are all intensified by the hot glare of the tropical sun; the rainy season adds life and bathes you in thick luscious environmental etheric forces.
Don't want to arrange a menu?  Bring your own cook!  Or use an available cook here. You have full/exclusive access to the kitchen.
Maid service is available and on standby
Offer your yoga students the possibility of having an in-house massage.
Originally a small fishing town, tourism to Playa del Carmen began with the passenger ferry service to Cozumel, an island across the Cozumel Channel and a world-famous scuba diving destination.
Playa del Carmen has recently undergone extreme rapid development with new luxury residential condominium buildings, restaurants, boutiques and entertainment venues. Tourist activity in Playa del Carmen centers on Quinta Avenida, or Fifth Avenue, which stretches from Calle 1 norte to Calle 40. A pedestrian walkway located just one or two blocks inland from the beach, Fifth Avenue is lined with hundreds of shops, bars and restaurants. There are many small boutique hotels on and just off Fifth Avenue and on the beach.
Playacar is a residential and tourist development in Playa del Carmen just south of the main urban area. Most of the all-inclusive hotels, the aviary and the golf course are located in this development. There are two phases — phase 1 is mostly residential with a few hotels and some stores, while phase 2 contains the largest all-inclusive resorts as well as the golf course and a significant number of residential properties.
Activities
Restaurants
Sailing
Rafting
Swimming
Golf
Fishing
Surfing
Hiking
Jet Skiing
Visiting Ruins and Cenotes
Water Skiing
Wildlife Viewing
Shopping
Horseback Riding
Boating
Shelling
Sight Seeing
Snorkeling/Diving
Call us today and feel free to book your ultimate yoga retreat.  Pura vida!